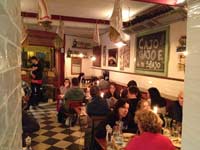 Cajo & Gajo, a playful name, a nice combination that contains the inseparable union between Taste and Quality. In the heart of the restless Trastevere, you'll find a delicious corner,with a retro, refined and sophisticated atmosphere, full of suggestions and influences.
Here every detail is essential, smiles and cordiality are the main dish. A place where the Roman cuisine is interpreted by creating new and intense flavors with an unique and unmistakable character.
Remember, Against the strain of modern life… Cajo & Gajo!
We're waiting for you,
Alessia, Vito, Mauro, Riccardo, Andrea, Simone…